Scope
The figure below illustrates the scope of OpenSS7. The scope includes from embedded system development through applications. The core scope of OpenSS7 is the SS7 stack, SS7 over IP stack, device drivers and transport stacks necessary to complete the framework.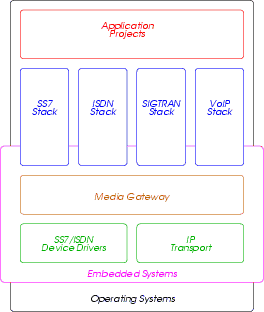 Application Frameworks:-
AIN/CS-2 Call Model
OpenSwitch Call Control
SCP/HLR
Billing Package
Daemons:-
SS7 Stack Manager
ISDN Stack Manager
VoIP Stack Manager
Circuit Management
UA Layer Manager
Event Monitor
Statistics Collector
STREAMS drivers:-
BICC, ISUP, BSSAP, TCAP, SCCP and MTP3 drivers
BUA, ISUA, TUA, SUA and M3UA drivers
TALI driver
ISDN, V5, GR303 drivers
H.225.0, BSSAP drivers
IUA, V5UA and GR303UA drivers
SCTP, TCP, UDP, IP, SSCOP-MCE drivers
SSCOP driver
MG, MGCP, MEGACO H248, H245 drivers
X100P-SS7, X400P-SS7, CPC-388, PCA-200E, ACB56 device drivers
STREAMS modules:-
HDLC, DL modules
SL, SDT modules
MTP3b module
CH, MX modules
For more information on what exactly is contained in each of the major product blocks and what their status is, see "Status".